Massage Chair Shipping & Delivery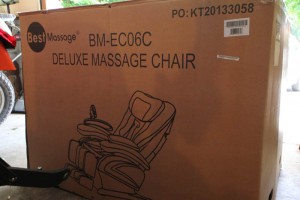 I ordered the EC-06C massage chair on a Sunday night. I got a call the following Tuesday afternoon from a freight company who's an hour away. The dispatcher said he has a shipment for me and wanted to confirm that someone would be home on Thursday between 10am – 2pm. I'm in NY and the chair was shipped from a hub in GA. The delivery time was listed as 2-3 weeks. That was quick.
I told the dispatcher that I live on dead-end street. I've had purchases come by tractor trailer before and it wasn't an issue, but I just wanted to give them a heads up. Some of these guys can do amazing things with their trucks. Apparently it's against the law in NY, so the driver was going to call a half hour before arriving and I'd meet him at the end of the street with a trailer. You should have a few options if you're in a similar situation and the freight company doesn't want to deliver to your address:
1) Meet the driver where your street connects to a main road.
2) Meet the driver in a parking lot close to where you live.
3) Ask them to change the delivery address to a friend's house.
4) Don't say anything and hope the driver will make the delivery anyway. You should think of the driver though. Does the street have a lot of parked cars? Is it narrow? Is it anything but straight? Are there any obstacles? Just ask yourself… How would you like to back a tractor trailer down the street?
I changed my mind and asked them to deliver it to a family member's house instead. I didn't want to mess around with trying to unload and load it on the side of a main road. They might not let you change the delivery address unless there's a good reason it can't be delivered to yours.
Just another thing to consider — some companies offer a white glove service which includes bringing it into your house and setting it up. I was on a budget already, so I didn't even give this option much consideration.
It'll be delivered in it's original box on a pallet. No damage to report.